---
Defiant: The Bewitched Demon Hunter
"Everything that I am is a gift as well as a curse."

Rumors about an infamous Mage-sprout - Azalea "The Bewitched"- had been circling around the Hunter's Council. Such rumors tend to attract the attention of various organizations. It's easy to tell with the uncanny similarities the men enquiring often possess. These malicious gossips had produced troublesome situations for Azalea's demon hunting job. Most hunters are afraid to team-up with her and some people are reluctant to make a hunting request with her involved.

During her solo hunt in Dimatagpuan Region, four students from the renowned school, AB Academy, appeared before her with an odd offer. This academy's Headmaster had grown a sudden interest in her skills as a Mage and he wants her to enroll as one of his scholars. It is the most unexpected offer which might as well bring the greatest change in her current lifestyle. Is she prepared to leave behind her normal daily life of hunting and fighting, to turn it around into an unusual daily life of socializing and schooling? How will she respond to her new environment as she learns more about who she really is?


Table of Contents

​[Book 1] The Bewitched Demon Hunter
​....

​....

Hunt 1:

Hunt 2:

Hunt 3:

Hunt 4:

Hunt 5:

Hunt 6:

Hunt 7:

Hunt 8:

Hunt 9:

Hunt 10:

Hunt 11:

Hunt 12:

Hunt 13:

Hunt 14:

Hunt 15:

Hunt 16:

Hunt 17:

Hunt 18:

Hunt 19:

Hunt 20:

Hunt 21:

Hunt 22:

Hunt 23:

​Hunt 24:

Hunt 25:

Hunt 26:

Hunt 27:

Hunt 28:

Hunt 29:

Hunt 30:

Hunt 31:

​Preface

​Prologue

Bewitching

​Cornered

​Odds

​Al Duran

​Turning Point

​End of Hunt

​A Sudden Twist

Clearing

​Gifts and Hexes

​Saving Grace

​Encounters

​Entangled strings

​From the Plains

​Fading Light

​Contemplating Points

​Unyielding

Problem Children

​It's a Warm Color

​Untamed

Misconceptions

​Undesirables

​Asylum

The 7th Member

​

​How Unsightly

​​

The Alliance

​Cat in the Bag

​Q

​Mismatch

Out of Control

​Repercussion

​After the Daring Mission



​Follow
Airam Zenemijil
in social media:
​


Facebook

Instagram

Twitter
---
FEATURED ILLUSTRATIONS:
---
Defiant: Asylum's Counter Attack

Azalea, a licensed Demon Hunter, enrolled in AB Academy. Due to her unusual past, she decided to keep a low profile until she graduates from the academy in 4 years. However, after getting involved with some students her age, they founded a club named "Asylum." The said club has become the topic of ridicule and gossip among the students due to its weirdly diverse members and their seemingly nonsensical club objective. On the other hand, the Headmaster appears to have a plan for them in mind. He gave them a "quest" to complete and while in the middle of resolving the quest they have encountered some irregularities in the city.

Something dark is starting to unfold with AB Academy as its target. What would Asylum's role be? With those issues in hand, along with some more events that is starting to develop behind the scenes, will Azalea be able to maintain being in low profile and avoid getting discovered?
Table of Contents

​[Book 2] Asylum's Counter Attack
April, 2019

​DEFIANT
The Bewitched Demon Hunter
Copyright 2019
Airam Zenemijil

All rights reserved.
No part of this publication may be reproduced, distributed, or transmitted in any form or by any means, or stored in a database or retrieval system, without prior written permission/consent by the author.
Powered by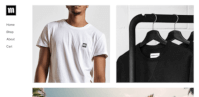 Create your own unique website with customizable templates.